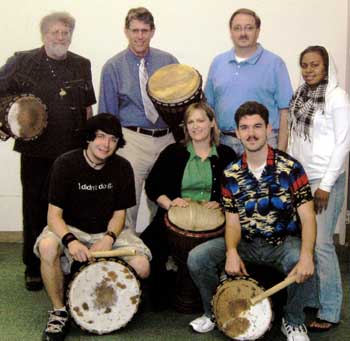 Front row, from left: Gene Kachenovich junior music major of Olive Branch, Dr. Karen Fosheim, Professor of Music, and David Mason, freshman music education major of Saltillo.
Back row, from left: Wally Wooten of Shelby, Dr. Alan Barton, Assistant Professor of Sociology, Dr. Larry Bradford, Professor of Music, Abena Brittney Seward, junior Physical Education and Recreation major of Cleveland, Ohio.
Over the past year-and-a-half, anyone walking along the Delta State University quad on Monday evenings may have noticed unusual sounds emanating out of the music building.
The rhythmic beats have been courtesy of the Community Drumming Experience class, a group of students, faculty, staff and community members who have joined together to practice drumming on the djembe, a West African drum made from wood and goat skin. The drummers have studied various rhythms as well as typical dances and songs from the countries along Africa's Atlantic coast. They have performed on campus and around the Delta, enchanting audiences with their enthusiasm and infectious rhythms.
Now, they are taking their show on the road.
In June, during Delta State's first summer semester, a group of ten students and faculty will travel to Guinea to sharpen their skills with true African drumming and dance masters. They will live in a compound near Conakry, Guinea's capital, and will enjoy food prepared by local cooks in the traditional style. On the weekends, they will travel to villages around Guinea to learn more about the country and its people.
Dr. Karen Fosheim, professor of music at DSU and leader of the Community Drumming Experience, will offer courses in music as it relates to culture. "Much like the Blues music of the U.S., the music of West Africa provides a narrative of daily activities and occurrences. Therefore, it is difficult to separate the music from cultural context. DSU participants will spend several hours each day studying techniques of drumming and dance, and will then experience the music on the streets of Conakry and in surrounding areas," said Dr. Fosheim.
Students will also study local culture under the tutelage of Dr. Alan Barton, assistant professor of sociology and community development. "We are excited to be able to take these dedicated DSU students to West Africa to study music and culture," said Dr. Barton. "This is a great opportunity for these students to broaden their horizons and to develop a global worldview. Guinea is such a unique place and this promises to be a life-changing experience."
Olugbala Manns, a free-lance djembe master drummer and adjunct faculty member at Hiram College in Hiram, Ohio, will lead the excursion. One of the finest young drummers in the northeastern U.S., he has studied djembe with many of the top African masters and he holds a degree in African Studies from Kent State University. Manns performed around Cleveland in November, 2008 with his own drumming group HeartBeat Afrika.
Guinea is a country of 10 million inhabitants, one-fifth of which live in Conakry right on the Atlantic Ocean. Guinea shares borders with Senegal and Guinea-Bissau to the north, Mali to the east, and Sierra Leone, Liberia and Ivory Coast to the south. A former French colony, today Guinea receives few foreign visitors, and retains an authenticity that makes it an ideal place for the DSU scholars to study music and culture.
The djembe ensemble will be performing at the Crosstie Festival in Cleveland on Saturday, April 18, at 1 pm on the east side of the Courthouse. They also will perform at the American Cancer Society's Relay for Life at the Delta State University Athletic Complex on Friday, April 24, at 6:15 p.m.
The djembe ensemble is currently raising funds to cover the costs of the trip to Guinea. If you would like to make a donation to this unique trip, please contact Dr. Fosheim c/o the DSU Music Department, Zeigel Hall, at (662) 846-4622 or at

kfosheim@deltastate.edu.