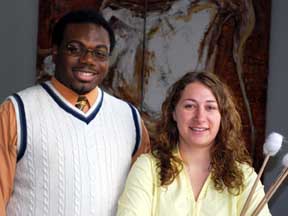 LeMorris Hunt and Amber Horton
The Delta State University Department of Music will present Amber Horton and LeMorris Hunt, both education majors, in a combined senior recital on Thursday, April 30, at 1:30 p.m. in the Recital Hall of the Bologna Performing Arts Center on campus.
Horton is the daughter of Steve and Kathy Horton of Colt, Ark. She is a percussion student of Dr. Larry Bradford, professor of percussion and assistant director of bands at Delta State.
Since coming to Delta State, Horton has performed with the DSU Marching Band, Wind Ensemble, Percussion Ensemble, Steel Band, Delta Singers Choir, and Community African Drumming. She is a member of Omnicron Delta Kappa and the Gamma Zeta Chapter of Mu Phi Epsilon.
Horton has participated in the 2006, 2007, 2008, and 2009 Music Department's Honor's Recital. She has received the Jeff Ross Capwell Music Scholarship and a prestigious band scholarship from the Department of Music.
Horton has been principal percussionist at Delta State for five years. She has played for the Delta Symphony Orchestra in Greenville and worked for the Mississippi Summer Arts Institute offered in the summer. She is currently teaching in Ruleville as a part of the program sponsored by the Thelonius Monk Institute of Jazz.
Horton will be playing works by Robert Stern, Gordon Stout, Elliott Carter, and Scott Joplin.
Hunt is the son of Melissa LeSueur and Willie Hunt of Holly Springs. He is the piano student of Dr. Karen Fosheim, professor of piano at Delta State.
Since entering Delta State in 2004, he has performed with Delta State Chorale, Chamber Singers, Delta State Steel Band, and the pianist for Delta Singers. He also performed with the 2008 Delta State Honor Band. He also serves as the organist for United Baptist Church under Pastor Sammie Rash in Cleveland.
Hunt has won numerous awards including 2nd place at Mississippi Music Teachers Association (MMTA) Piano Competition 2009, 3rd place in Alcorn State Piano Competition 2008, 2nd place at MMTA Concerto Competition 2007, Honorable Mention at MMTA Piano Competition 2004, 1st place at Church of God in Christ Fine Arts Competition 2004, and has participated in Delta State Honors Recital 2005, 2006, 2008, and 2009.
He is also a member of Delta State's Gamma Zeta Chapter of Mu Phi Epsilon, a professional music fraternity.
Hunt will be playing works by J.S. Bach, Joseph Haydn, Samuel Barber, and Frederic Chopin.
The recital is free and open to the public. For more information, call the DSU Music Department at (662) 846-4615.