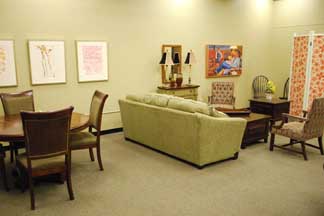 Delta State faculty will officially open their new faculty lounge located on the second floor of H. L. Nowell Union with a "May We Present" program on Wednesday, April 22, at 3 p.m.
The program will feature talent drawn from across the campus, including musical performances by professors James Robinson, Renelda Owen, Paul Hankins, John Wojcik, Douglas Mark, Tricia Walker, and Karen Fosheim.
Poetry readings will be presented by professors Dorothy Shawhan, Terry Everett, James Tomek, and Yvonne Tomek.
The new facility features comfortable seating areas, a conference table, and kitchen. The walls are decorated with artwork by Delta State students and faculty. The room is available for the use of all Delta State faculty and their invited guests on a casual basis, as well as for pre-arranged group meetings and social occasions.
Led by Dr. Phyllis Bunn, Faculty Senate Past President, the Faculty Senate Lounge Committee developed the new lounge from an uncarpeted meeting room adjacent to campus police headquarters.
"I want to thank President Hilpert for making funds available for the plumbing, carpeting, and structural changes we needed," said Dr. Bunn. "I also want to thank Viking Range for their generous donation of appliances."
"Last but not least, special thanks to Faculty Senate President David Hebert and Faculty Senator Eckward McKnight for the weekend the two of them spent painting the room. Their contribution of skills and time helped stretch our very limited budget."
Other members of the Faculty Lounge Committee include Faculty Senators Paulette Meikle-Yaw, Cam McMillan, and Patricia Roberts.
The event is free and open to the public. Refreshments will be provided by Dr. Cam McMillen and her Family and Consumer Science class.