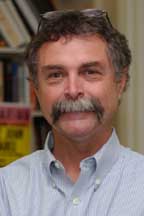 Dr. Luther Brown, Director of Delta State University's Delta Center for Culture and Learning, was honored by the Mississippi House of Representatives.
Brown was cited for his years of service to the state as founding director of the Delta Center for Culture and Learning at DSU. Brown is also the associate dean for the Delta Regional Development at Delta State.
He accepted the commendation of the Mississippi House of Representatives after being honored in the chamber on March 25.
"It is an incredible honor to have been presented with the commendation from the House especially since I'm not from Mississippi," said Brown. "It was a very humbling and nervous moment for me."
Brown is originally from Illinois and taught in Virginia for 22 years before coming to the Mississippi Delta. He's been at Delta State since 2000.
"I was very shocked when I received the call from Rep. Linda Whittington (Greenville)," he said. "I didn't know it was going to happen. She called and informed me that I needed to be present."
The resolution commends Brown's devotion to the advanced development of the Delta Center for Culture and Learning at DSU and his commitment to the development of the student mind and matriculation as associate dean for Delta Regional Development.
"She (Whittington) said the resolution had already been voted on and I just needed to show up," Brown said. "It was amazing to be there and stand in front of all the representatives and everyone. It's just hard to describe the emotion."
Brown said one of the reasons he moved to Delta was because of its rich heritage.
"There are incredible heritage stories here in the Delta," he said. "The Delta Center for Culture and Learning supports the Mississippi Blues Commission and all kinds of efforts geared toward the Blues. The amazing history of the Blues is one of the reasons the center was founded."