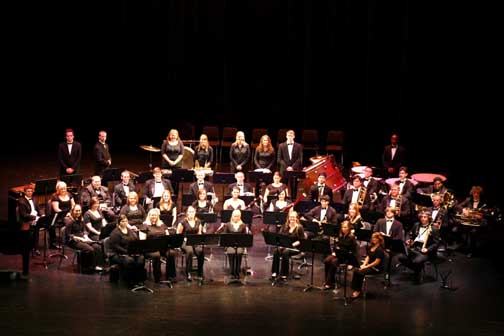 The Delta State University Wind Ensemble, under the direction of Dr. John Wojcik, and the Delta State Symphonic Band, under the direction of Dr. Larry Bradford, will perform in their annual spring concert on Tuesday, April 28, at 7:30 p.m. in the Delta and Pine Land Theatre of the Bologna Performing Arts Center.
The Symphonic Band will take the stage first and open with Robert W. Smith's "Songs ofEarth, Water, Fire and Sky."
Second on the program will be a beautiful arrangement by James Swearingen of the well-known song Deep River.
The Symphonic Band will then bring its portion of the concert to a close with "Shadows in Time"by Quincy C. Hilliard.
Following a short intermission, the Wind Ensemble will take the stage and open with The Overture to "Candide"by Leonard Bernstein and arranged by Clare Grundman.
Second on the program will be the first and third movements from "Concert Suite"by Frederick Ash. The time honored Lucien Cailliet's arrangement of Richard Wagner's "Elsa's Procession to the Cathedral"from his opera Lohengrin will be third and fourth on the program will be the lighthearted "Shepherd's Hey"by Percy Grainger.
The Wind Ensemble will conclude the concert with the rousing "Celebrations" by John Zdechlik.
The Wind Ensemble and Symphonic Band are the two concert band organizations for Delta State. All the students in these groups were members of the marching band during the fall. The Wind Ensemble meets year round and the Symphonic Band meets during the spring semester.
The music performed by both groups represents some of the best music written for band. Composers represented have won major composition awards or are considered to be the best in their field by band directors world-wide. This is an exciting time for bands with more top composers than ever before contributing not only to the choral and orchestral genres, but now to the concert band. The music performed in this concert represents this exciting and historical period in music.
The concert is free and open to the public. For more information, contact the DSU Music Department at (662) 846-4615.