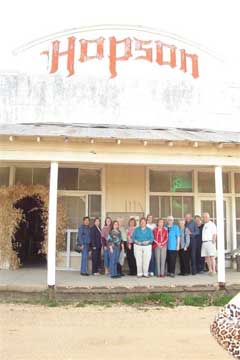 The Delta State University Archives and Museum will host a Dinner Bus Tour to the Tunica Museum followed by dinner at Paul Deen's Buffet on Sunday, April 26.
The bus will leave the Archives parking lot at 2 p.m. and should return to campusby 9:30 p.m.
The Tunica Museum interprets the history of Tunica County through exhibits, educational programs, research and collections.

Topics include the natural setting, Native American prehistory, early European exploration and settlement, and 19th and 20th century social, agricultural, institutional, political, military and commercial history. The exhibits reflect the rich ethnic diversity of the County.

Richard Taylor, Executive Director of the Museum, will guide our tour with a special demonstration on historic cotton ginning.
After the tour we will dine at the restaurant of the queen of southern cuisine, Paula Deen!

Paula Deen came from humble beginnings. She was a bank teller before opening a small catering company in Savannah, Georgia called The Bag Lady. She later opened her own restaurant, The Lady and Sons.

In 1997, she published her first cookbook, "The Lady & Sons Savannah Country Cooking," and several successful books have followed.

Deen became involved with the Food Network in 1999, and eventually got her own show, Paula's Home Cooking. The show propelled her into the realm of celebrity chef superstars, and she has a wide, loyal following of fans who love her down-home charm and no-nonsense view of life and cuisine.

Paula Deen's Buffet features six mouth-watering stations:
Granny Paul's Garden:
A full salad bar featuring some of Paula's favorite salads and signature "Skillet Cornbread."
Uncle Bubba's Oyster House:
Features menu items served at Bubba's restaurant in Savannah, including the signature "Char Grilled Oysters."
Hoe Cake & Biscuit Station:
Cooked all day long served with butter and syrup if desired.
Lady & Son's:
Features southern comfort foods such as Paula's famous Fried Chicken, Collard Greens and Lady's Cheesy Mac.
Captain Michael's Smokehouse:
Features an assortment of meat prepared using Paula's rubs smoked daily, BBQ pulled pork, smoked sausage and ribs.
Little Jack's Corner:
A wide array of desserts featuring Paula's famous Gooey Butter Cake, Grandmother Paul's Sour Cream Pound Cake, peach cobbler and creamy hand dipped ice cream.
The total cost of the bus tour is $25. Due to limited space, early reservations are encouraged. To sign-up call (662) 846-4780 or e-mail
archives@deltastate.edu
.