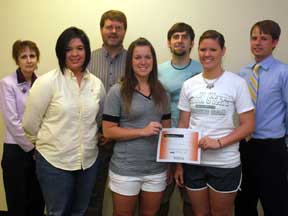 Front row, from left: Lee Karen Portera of Grenada, Amanda Guidry of Cut Off, La., Jennifer Gerasimos of Mesa, Ariz., (back row, from left) Jan Haynes, faculty advisor, Scott Hutchens, faculty advisor, Zach Hardy of Hernando, and Jacob Stripling of Hernando
Several students in the College of Education at Delta State University were awarded honors at the 5th Annual Delta Research and Scholarship Symposium on April 1.
Three psychology majors, Jennifer Gerasimos, Amanda Guidry and Zach Hardy were awarded the 1st place award for Best Undergraduate Student Presentation. The title of their empirical research was "Do Professor Dress and Gender Affect Student Impression Formation?" The students found that dress (casual versus formal) was more of an important factor for female professors than male professors. That is, students viewed female professors differently according to their dress. The research was conducted as a requirement in a social cognition course under the supervision of Dr. Scott Hutchens, Delta State associate professor of Psychology. Five other psychology majors also presented five empirical research presentations at the conference.
Lee Karen Portera, senior fashion merchandising major, was awarded the first place award in the Student Apparel Design Competition portion of the Delta Research and Scholarship Symposium. Portera's design was a wearable art/theatrical costume called "Tree,"which incorporated an actual hand painted cotton tree attached to the side of the dress.
Jacob Stripling, a master's student in the Education Leadership Cohort Program, was awarded the first place award for Best Graduate Student Presentation. The title of his poster was "Physical Fitness: Improving Results in North Mississippi Elementary Schools." His study examined fitness gains made by elementary students in the state after implementing the Mississippi Physical Education Framework and Project Fit America curriculum. Jacob's research was supervised by Tim Colbert, Delta State chair and instructor in Health, Physical Education and Recreation.