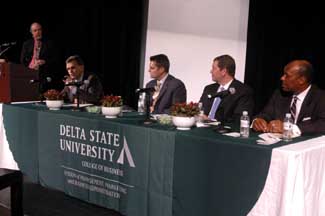 The panel of the 2009 International Business Symposium answers questions submitted by Delta State faculty and students. The panel consist of (seated, from left) David Abney, chief operating officer for UPS and president of UPS Airlines; Matt Abney, program manager for the Los Angeles County's Community Development Commission, Bill Abington, president of operations for a major industry; and Myron Gray, senior VP of US Operations, UPS. Delta State Instructor of Management Robert Fleming (standing at left) acted as moderator for the panel
The theme of the symposium is "Roadmap to Your Success." The symposium is designed to assist students in mapping their futures.
The annual symposium is sponsored by David and Sherry Abney, Delta natives who currently reside in Atlanta, Georgia. A 1976 graduate, Abney earned his bachelor's of business administration from Delta State, and today sits on the University's Foundation Board.
The symposium was held Friday morning, in the auditorium of Jobe Hall on the campus, and was hosted by Delta State University's Division of Management, Marketing, and Business Administration.