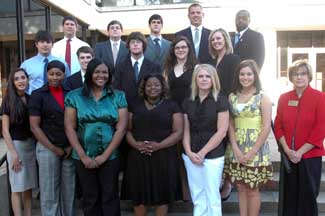 The Delta State University College of Business recognized students for their service as members of the Dean's Business Student Advisory Council (BSAC) on April 16, at the College of Business Awards and Recognition Banquet, held in the State Room of the H.L. Nowell Union.
Students are business majors recommended by faculty and chosen by Dean, College of Business Billy Moore, based on character, academic excellence, and leadership. Also shown is Cathy Conico, assistant to the Dean and facilitator of the Council.
BSAC members pictured are: (front row, from left) Karishma Patel of Clarksdale, Tierra Jenkins of Okolona, Sandra Smith of Senatobia, Sabrina Morton of Mound Bayou, Hope Scarborough of Greenville, Beth Ann Youngblood of Batesville, Cathy Conico (second row, from left) Randy Geimer of Madison, Thomas Mock of Quantico, Va., Ben Wofford of Olive Branch, Megan Tutor of Como, Loryn Williamson of Boyle, (back row, from left) Jeremy Tackett of Greenville, Jason Cole of Cleveland, Mark McKee of Cleveland, Alan Murray of McComb, Emmett Manly of Cleveland.