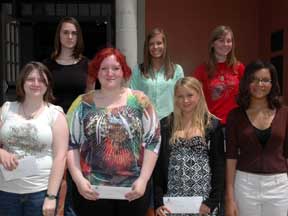 Winners of the Delta State Art Department's Spring Portfolio Day are: (front row, from left) Kayla Crenshaw from Lucedale, Zilpha Young from Tupelo, Amber Sims from Hernando, Gabriel Nolden from Cleveland, (back row, from left) Kayla Selby from Cleveland, Emily Ridge from Batesville, Alyssa Cobb from Cleveland. Not pictured: Gabriela Castro from Tequcigalpa, Honduras.
High school junior and senior students from across the state were invited to bring their art portfolios to the Delta State Art Department for review. Juniors were offered critiques of their portfolios so that they could know what to expect for next year's competition. Seniors entered the competition for scholarships that were offered for the 2009-10 academic year for entering art freshmen.
Held annually each spring semester, Portfolio Day is an effort to determine those students that will be awarded art scholarships for the coming year, while also giving high school students interested in art the opportunity to present their artwork for college scholarship consideration and review.