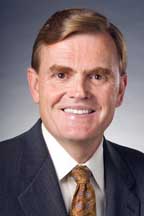 David Abney
Delta State University's Division of Management, Marketing, and Business Administration will present the 2009 International Business Symposium on Friday, April 17, from 9 a.m. – noon in the Jobe Hall Auditorium on campus.
The theme of the symposium is "Roadmap to Your Success." The symposium is designed to assist students in mapping their futures.
The annual symposium is sponsored by David and Sherry Abney, Delta natives who currently reside in Atlanta, Georgia. A 1976 graduate, Abney earned his bachelor's of business administration from Delta State, and today sits on the University's Foundation Board.
Abney will deliver the keynote address entitled "Mapping Success in Difficult Times."
As Chief Operating Officer for UPS and President of UPS Airlines, Abney directs all operations worldwide of its sophisticated global transportation network, including the eighth largest airline in the world. He oversees the pick-up and delivery of 14.8 million packages and documents daily to a service area that includes every address in the United States, as well as to over 200 countries and territories. In addition to his corporate responsibilities, he is a Trustee of The UPS Foundation, which is the charitable arm of UPS. He has served on the Board of Directors of the Air Courier Conference of America and the U.S.-Japan Business Council. Currently, he serves as a board member of the Southern Center for International Studies and the Coalition of Service Industries.
Several highly successful professionals will be on campus, participating in a panel discussion designed to allow students to learn about the paths each professional took to in his career to achieve his goals and gain advice on their own chosen path.
After the keynote address, the panel will begin by responding to student submitted questions presented by a faculty moderator. An opportunity will also be available for audience questions as well as time to network with our guests.
The panel consists of the following professionals, David Abney, Myron Gray, Senior Vice President of U.S. Operations of UPS, Matt Abney, Program Manager for the Los Angeles County Community Development Commission.
The symposium is free and open to the public. For more information, please contact Dr. Jamye Long at (662) 846-4420 or
e-mail jlong@deltastate.edu.