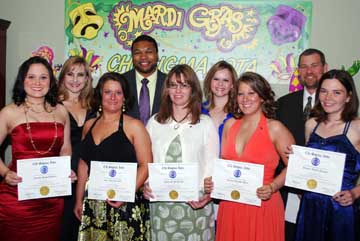 The Delta State University chapter of Chi Sigma Iota, an international honor society of professional counseling, recently initiated new members.
They are (front row, from left): Jennifer Medders of Cleveland, Sara Beth Prewitt of Greenville, Kelcey S. Steinriede of Cleveland, Kristen Allen of Clinton, Heather Muller Peacock of Morgan City, (back row, from left) Dr. Laura Simpson, assistant professor of counselor education and faculty advisor for Chi Sigma Iota, Davlon Miller of Hernando, Mary-Morgan Romine of Indianola, and David A. Mancill of Greenville.
The induction ceremony was held Wednesday, April 8, at the Hugh Ellis Walker Alumni House at Delta State.

Chi Sigma Iota was established 1985 through the efforts of leaders in the profession of counseling whose desire was to provide recognition for outstanding achievement as well as outstanding service within the profession. CSI was created for counselors-in-training, counselor educators, and professional counselors whose career commitment is to research and service through professional counseling.

The purpose of Chi Sigma Iota is to promote scholarship, research, professionalism, leadership and excellence in counseling, and to recognize high attainment in the pursuit of academic and clinical excellence in the profession of counseling.