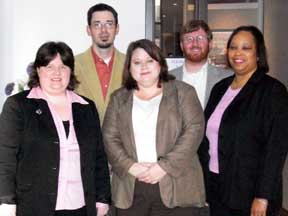 Suzanne Simpson, Office of Institutional Research and Planning; Dr. John Green, associate professor of Sociology and Community Development and director, Institute for Community-Based Research; Robin Boyles, Office of Institutional Grants; Eric Atchison, Office of Institutional Research and Planning; and Deborah Moore, Center for Community and Economic Development
The Delta State University Office of Institutional Grants, in conjunction with the Delta Research and Scholarship Symposium, held a workshop on March 31 entitled, "Developing Grant Proposals to Advance Program, Research and Scholarship."
The workshop, held at the Capps Museum and Archives, was facilitated by Deborah Moore, director of the Center for Community and Economic Development, Dr. John Green, associate professor of Sociology and Community Development and director of the Institute for Community-Based Research, and Robin Boyles, director of the Office of Institutional Grants.
Thirty faculty, staff, and graduate assistants participated in the four-hour workshop which focused on grant topics such as establishing and justifying needs, building collaborations, developing the project, and designing the evaluation.
Dr. Myrtis Tabb, associate vice president for Finance and Administration, opened the workshop with a welcome and Dr. Ann Lotven, provost and vice president of Academic Affairs, spoke to the participants about how grant work could fit with tenure and promotion. In addition, Suzanne Simpson, Eric Atchison, and Marcie Behrens, with the Office of Institutional Research and Planning, provided valuable information to participants on the types of data they could provide in support of a grant application.
The Office of Institutional Grants is planning to follow this workshop in the fall 2009 with a series of grant workshops that will cover topics in a more in-depth manner in areas such as developing a project budget, evaluation, the grant proposal writing process, and identifying potential funding sources.