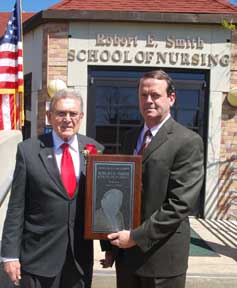 Judson Thigpen (right), President of the Delta State University Foundation Board of Directors, presents Robert E. Smith an engraved plaque that will be displayed in the foyer of the Robert E. Smith School of Nursing
In recognition of his generous financial support, the Delta State University School of Nursing was officially renamed the Robert E. Smith School of Nursing during a dedication ceremony Wednesday, April 1.

A retired Delta farmer, Robert Emil Smith has endowed seven scholarships to the School of Nursing.
"Mr. Smith's gift and pledge of $2.1 million is the largest ever from an individual to the University," said Keith Fulcher, executive director, Delta State University Foundation, Inc. "His thorough and diligent planning of his estate will one day transform the School of Nursing and enable them to provide hundreds of scholarships to aspiring nursing students."
The Robert E. Smith School of Nursing is the first academic unit named for an individual at Delta State.
In his opening remarks, Delta State President, Dr. John M. Hilpert, characterized Smith as a hero. "Robert Smith is as committed to charitable giving as anyone I know," said Hilpert. "Thanks to him the future is infinitely brighter for this school, students pursuing this noble profession, and for the field of healthcare."
Ruth Luciano, an emergency room RN at the North Sunflower Medical Center in Ruleville, was the first to receive a Robert E. Smith nursing scholarship. "I want to thank you for giving me the opportunity to pursue a career in nursing," said Luciano. "Your generosity changed the path of my life and allowed me to reach my professional goal."
A veteran of WWII, Smith served in General George Patton's Thirteenth Armored Division in Europe where he participated in the liberation of Paris and the Battle of the Bulge. He received the European African Middle Eastern Campaign Medal with three bronze stars, the American Campaign Medal, and the World War II Victory Medal.
Upon his return from the WWII, Mr. Smith taught agriculture classes to discharged veterans, while farming on the side. He built a career in agriculture, operating a dairy farm for ten years and was one of the first farmers in the Mississippi Delta to grow rice.
Smith remains actively involved with Delta State University. He was a member of the Delta State University Foundation Board of Directors and the local Wesley Foundation Board.
In addition to his contributions to the School of Nursing, Smith helped in the planning and completion of the new Wesley Foundation building and contributed a substantial endowment to the Wesley Foundation's work on the Delta State campus.
"The numerous methods Mr. Smith used to make his gift are a testimonial to his diligent financialplanning. They include: 1) gifts of cash, 2) gifts of stock, 3) a charitable remainder unitrust, 4) a charitable gift annuity, 5) estate gift through his will, and 6) gift of real estate." said Judson Thigpen, President of the Delta State Foundation Board of Directors. "There is no one in our 21,000 member database who has used such a variety of charitable giving instruments as Robert. I'd like to thank his attorney, Floyd Melton III, and his CPA, Gary Gainspoletti, for structuring his estate planthat will one day provide the School of Nursing with approximately $100,000 in scholarships. It will be the single largest scholarship endowment providing the largest number of student scholarships of any endowment at the University."
Smith's contributions were recognized by several presenters. He received a number of gifts and was honored as a lifetime member of the Delta State Alumni Association and an honorary member of the School of Nursing.
Hilpert then read a proclamation signed by Governor, Haley Barbour, declaring April 1, 2009, as Robert E. Smith Day in Mississippi.
Smith closed the ceremony with heart-felt remarks. "I really appreciate this honor and want to say that this makes me feel like my life has been worthwhile to have been able to help these students and to know that lots of others will be helped in future years," said Smith. "I would encourage anyone that can to give scholarships to the nursing department. I know that it would be a blessing to you the same as it has been to me."