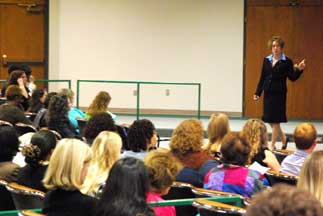 Mary L. Bartlett (standing at right), assistant professor and coordinator of the community counseling track in the department of counseling at the University of Montevallo in Montevallo, Ala., presents her keynote address for the 28th annual F.E. Woodall Spring Conference for Helping Professions at Delta State University.
Bartlett's address was "Legal and Ethical Considerations in Working with Suicidal Clients." The address was presented in the Henry J. Jacob Conference Center of James M. Ewing Hall on the campus.
Bartlett is a licensed professional counselor, a nationally certified counselor, a counseling supervisor, and a certified family life educator. Her area of research is suicide, and she speaks nationally on suicide prevention, clinical assessment of suicidality, and various related topics.
The Woodall Spring Conference is designed to provide community counselors, school counselors, counselor educators, social workers and other helping professionals with valuable tools for use in a wide variety of situations and work environments.