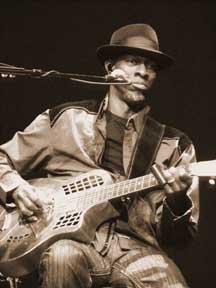 Keb' Mo'
The Thelonious Monk Institute of Jazz will return to the Bologna Performing Arts Center (BPAC) for a public performance on Sunday, April 19, at 2 p.m. Joining them will be legendary guitarist Keb' Mo.'
The following week, they will perform for student groups at the BPAC, the Delta Music Institute, and Ruleville High School, to be followed by other visits in the region.
"The Monk Institute put on an amazing show last year," says David Dallas, Executive Director of the Bologna Performing Arts Center, "They work with the top performers in the world of Jazz and we are very excited that they are bringing Keb' Mo' as one of their guest performers for this year's event."
"The work that they do with schools introducing young people to blues and jazz is incredibly beneficial for our region.

"
The Monk Institute developed The Blues and Jazz: Two American Classics curriculum for 5th, 8th, and 11th grade public school students. The program traces the blues and its vital importance to American history and culture, showing how the music became perhaps the greatest influence on jazz.
Dallas also was grateful that the Crosstie Arts Council had provided support to bring the Monk Institute back to the Performing Arts Center."It's also going to be a fun weekend of Jazz, since the performance at the BPAC will be the day after Cleveland's Crosstie Art and Jazz Festival."
Lucy Janoush, Crosstie Arts Council President, is also excited about the prospect."We are so excited to be able to combine the Festival weekend with a performance of this magnitude.We hope people will come out and enjoy what is sure to be an exceptional event."
In addition, 40 years of Crosstie Arts Festival Arts Competition winners will be on display in the BPAC lobby beginning the day of the Monk Institute performance.
"It's all part of a continued strengthening of a partnership between the Bologna Performing Arts Center and the Crosstie Arts Festival. We hope to keep the exhibit up for a few weeks but we hope people will come and enjoy it the day of the show," Dallas says.
Keb' Mo' is a world-class modern blues artist

.

This three-time Grammy Award winning singer, guitarist, and songwriter is a major presence on today's world music scene.He portrayed Robert Johnson in the 1998 documentary "Can you Hear the Wind Howl?"
Mo' performed at the opening of the B.B. King Museum in Indianola last fall, along with Robert Cray, Bobbie Blue Bland and B.B. King himself.
For ticket information, contact the Bologna Performing Arts Center Arts Center Box Office at (662) 846-4626.