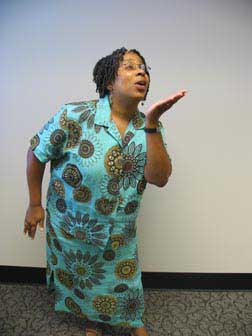 The Bologna Performing Arts Center will host a free storytelling workshop for children ages 5-8 as part of the Juliet Kossman ArtsPass Series from 9 a.m. – noon on Saturday, March 28.
Children will embark on an adventure in storytelling. Students engage in exercises that will lead them on a journey of exploration into the world of performance, presentation, and fun. The workshop will examine a variety of ways to tell a story, from interactive telling (teller/audience each telling a part of the story), to puppetry, as well as group storytelling performances.
Students will learn how the story elements help visualize, rather than memorize the story.
The presenter for this workshop is Diane Williams.

As a professional storyteller

for over 17 years

,

Williams has

performed in

schools, libraries, festival, communities, and a host of other venues.
She has performed for major festival events in the U.S. and abroad, as well as early childhood education events. Williams is comfortable working with all age groups and she even writes books on the subject.
She is the co-author/editor of a recently released publication "The Storytelling Classroom – Applications Across the Curriculum" and she is currently under contract with Libraries Unlimited/Teachers Ideas Press to produce another book entitled "Literacy Development in the Storytelling Classroom" which is scheduled to be released in the summer of 2009.
Williams is also the author of a children's book and audio cassettes of stories for both children and adults. During this workshop she will lead children on an adventure with theater style presentations of "The Boy Who Cried Wolf," "The Three Billy Goats Gruff," and "Anansi" and "The Moss Covered Rock."
Early registration is encouraged due to limited class size of 15 participants.
For more information or to sign your child up for this class, please call the BPAC at (662) 846-4844.