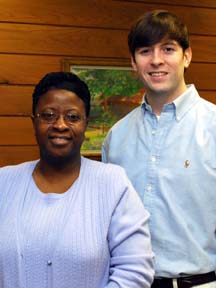 Delta State University Assistant Professor of Elementary Education and Coordinator of the Elementary Education Programs Dr. Corlis Snow (at left) and Drew Barham, Delta State senior marketing major of Coldwater, represented Delta State University at the 22nd Annual Higher Education Appreciation Day/Working for Academic Excellence (HEADWAE) awards luncheon in Jackson.
Seventy-two outstanding students and faculty members from 36 Mississippi public and private universities and colleges received special recognition from the Mississippi Legislature on
Thursday, Feb. 26

, and attend

an awards luncheon at the Marriott Hotel in downtown Jackson. Mr. Aubrey Patterson, chairman and CEO of BancorpSouth and IHL Board member, delivered the luncheon keynote address. Lieutenant Governor Phil Bryant, chair of HEADWAE, served as Master of Ceremonies.
HEADWAE was established in 1988 by the Legislature to honor the academic achievement of individuals and the overall contribution of the state's public and private institutions of higher learning.