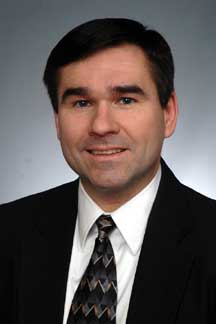 Dr. Albert Nylander has been named Delta State University's dean of graduate studies. A native of Greenwood, Nylander will continue to fulfill his current responsibilities as chair of the Division of Social Sciences, while working in the Office of Graduate Studies on a part-time basis through the remainder of this semester. Effective June 1, 2009, he will assume the responsibilities of dean of graduate studies on a full-time basis.
"I am thankful to be able to serve as the dean of graduate studies at Delta State University," said Nylander. "I want to thank our provost, Dr. Ann Lotven, and the search committee for this opportunity. It will be a tremendous honor to represent the respective programs across campus. I will be a strong advocate for all graduate endeavors on campus and will provide leadership and commitment for advancing graduate opportunities at Delta State."
"Albert Nylander brings a broad array of experience and expertise that will be key to DSU's future in graduate education," said Lotven. "His understanding of graduate programming and his strong academic resume, along with demonstrated administrative skills, made him an excellent choice for the position."
As dean, Nylander will work to increase funding to support the graduate office in order to attract more competitive graduate students to Delta State.
"Graduate education at Delta State is vital to the health of the Mississippi Delta economy and to the rest of the state'" said Nylander.

"My vision is to maintain high standards and quality for all graduate degrees. Delta State's graduate programs will continue to make key contributions to the Delta region and Mississippi."
Nylander holds a Ph.D. in Sociology from Mississippi State University. He and his wife, Lisa, have two children, Jared (11) and Jenna (3) and have resided in Cleveland for 12 years.