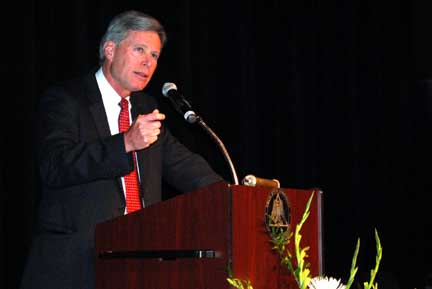 William LaForge Jr. speaks to an audience of Delta State faculty, staff and students and community members at the 12th Annual Sammy O. Cranford Lecture Series.
LaForge's address "Career Path Partnerships: From History to Law, and Around the World Too," was directed towards students seeking careers and to others as well. His address centered on five points: education, "branching out"- experiencing college life, involvement in politics and public policy, world travel, and mentors and colleagues.
Reminiscing his college career at Delta State, LaForge thanked professors in the audience for their influence on his personal and professional life. He encouraged students to take advantage of as many course opportunities as possible while "experiencing college" by getting involved in social, career and civic organizations.
He encouraged the audience to get involved in politics stating, "Politics affect us if we are active or not. You can get involved or be led by others."
While discussing world travel, LaForge encouraged students to take every opportunity to experience other cultures. Recounting his world travels, he stated, "Travel equates to education."
In closing, LaForge stressed the influence mentors and colleagues have on personal and professional success. "Cherish your relationships with your professors and learn from them," he said. "Your professors and peers will have immeasurable influence on the rest of your life."
LaForge is a graduate of Delta State's History Department, where his father also served as Chair of the Division of Social Sciences before becoming Delta State's first Dean of Arts and Science. LaForge holds law degrees from the University of Mississippi and Georgetown University, and studied international and European law at Cambridge University as part of his Georgetown LL.M. degree. LaForge is currently Managing City Shareholder for the Washington, DC, office of Winstead P.C., as well as Chair of that firm's Government Relations and Public Policy Practice Group, and an adjunct professor at George Washington University.
The Cranford Lecture is sponsored by the DSU History Department in memory of Dr. Sammy Cranford, who was a member of the DSU History faculty for 25 years, and University Archivist for 19 years, before his untimely death in 1994.
The 2009 Lecture is presented with special support from the Year of Partnerships.
The Cranford Lecture was held in Jobe Hall Auditorium, Monday, March 2.