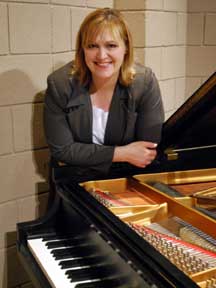 Dr. Karen Fosheim, professor of music at Delta State, will present a recital of Romantic Era piano works on Thursday, March 26, at 7:30 p.m., in the Recital Hall of the Bologna Performing Arts Center on the campus.
Dr. James Tomek, professor of languages, will recite poetry used by the composers as inspiration.
Works on the program will include Ferruccio Busoni's transcriptions of Chorale Preludes by J.S. Bach, the beautiful and emotionally powerful Vallée d'Obermann by Franz Liszt, and Pictures at an Exhibition by Modeste Mussorgsky.
Perhaps best known through Maurice Ravel's orchestral transcription, Pictures at an Exhibition was originally written for piano solo and depicts the composer's experience attending an exhibition of the works of his friend Victor Hartmann. The work is an imaginative masterpiece that demonstrates the color possibilities and expressive range of the piano.
This recital is free and open to the public. For more information, call the Delta Music department at (662) 846-4615.