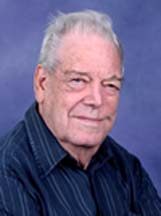 Dr. John C. Merrill will lecture on the "7 Myths of Journalism" on Monday, March 23, at 2 p.m. in the Simmons Room of the Delta State University Alumni Foundation.
The provocative presentation is designed to explore basic assumptions about journalism, such as the "people's right to know", the concept of objectivity, and the public "right of access" to media.
Dr. Merrill, an expert on media issues, began his academic career at Delta State – and went on to international prominence as a journalism educator, philosopher, and author of 29 books. He is Professor Emeritus of Journalism at the University of Missouri, and has lectured extensively throughout the world.
The Delta native maintains a keen interest in Delta State's journalism program. Through a generous donation, he established the Merrill Lecture Series, designed to bring working journalists to speak on the Delta State campus. Each year, the top DSU journalism graduate is recognized with the John Merrill Award, named in his honor.
Merrill earned his Ph.D. in Mass Communications from the University of Iowa, an M.A. in Journalism from LSU, and an M.A. in Philosophy from the University of Missouri. His long list of national and international distinctions includes Outstanding Alumnus of Delta State (1971) and membership in the DSU Alumni Hall of Fame.
After the lecture, Merrill will sign copies of his latest work of philosophy, "Call to Order: Plato's Legacy of Social Control."
The event is sponsored by the Delta State University Division of Languages and Literature, in partnership with the Alumni Foundation.
The lecture is free and open to the public. For further information, contact Patricia Roberts at (662) 846-4468 or Communications and Marketing at (662) 846-4675.