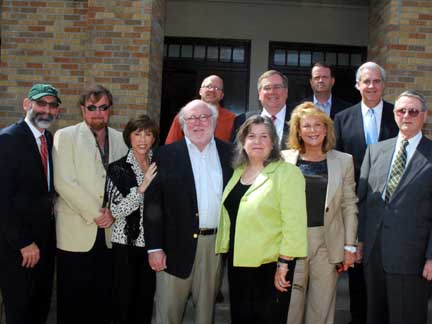 As a part of Delta State University's Delta Music Institute grand opening weekend, an official ribbon cutting ceremonywas held Sunday, March 9, at the front of the Whitfield Building on the campus.
Pictured are, from left, Malcolm White, executive director of the Mississippi Arts Commission; Hartley Peavey, founder and CEO of Meridian-based Peavey Electronics Corporation; Marsha Bryan, who with husband George are major donors to the Delta Music Institute; Fred Carl, founder and CEO of Viking Range Corp.; Eddie Willis campus minister of Wesley Foundation;Tricia Walker, director of Delta Music Institute; Dr. John Hilpert, president of Delta State University; Mary Peavey; Judson Thigpen, executive director of Cleveland-Bolivar County Chamber of Commerce and president of DSU Foundation Board; Bill Luckett of Rock River Foundation; and Dr. L. Stacy Davidson, Jr., Board Member, Mississippi Board of Trustees of State Institutions of Higher Learning.
The Delta Music Institute began with a generous donation by Fred Carl of the Viking Range Corporation in 2003. The focus of the DMI is to provide students with a broad and thorough education in the technological, business, and creative areas of the music industry.
Students in the DMI program pursue career aspirations through an innovative Interdisciplinary Studies degree, allowing them to combine two or three concentrations of study. The result is a broad entrepreneurial approach to the music and entertainment industries.