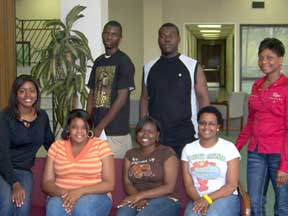 The ASB Group will include: (front row, from left) LaKendra Jones, of the Delta Center, Calandra Porter, of Oxford, Estella Hunter, of Cleveland, Melissa Oliver, of Clarksdale, and Teretha Lewis, of the Delta Center, (back row, from left) DeAron Washington, of Lexington, and Terry Rucker, of Crenshaw.
The Delta State University alternative spring break group (ASB) will travel to Hattiesburg, to volunteer at numerous sites during Delta State's break March 16-18.
The alternative spring break is a student-led group sponsored by Delta State's Delta Volunteers, a United Way Agency which places teams of college students in communities to engage in service and experiential learning.
"This year we have a great group of students who we felt would give a 100% effort into helping others during part of their spring break," says LaKendra Jones, Delta Center for Culture and Learning. "The students had great interviews and seem very motivated to try new things. When most students are vacationing during the break, this group will be volunteering and that is something they can be proud of."
While in Hattiesburg, students will participate in community gardening; help feed the homeless in soup kitchens; work with habitat for humanity and the boys and girls club.
The University of Southern Mississippi will send students to Delta State March 13-15 to volunteer.
For more information, please contact the Delta Center at (662) 846-4311.