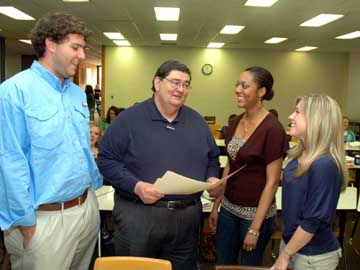 Delta State education majors in field experience class were back on campus recently, for some workshops and lectures related to entering the teaching field.
From left, Sean Harrison, an English education major of Tallahassee, Fla.; Paul Portera, principal of Grenada Elementary School; Coriss Watson, a music education major of Grenada; and Rachel Leidner, an elementary education major of Pickerington, Ohio, discuss Portera's presentation on the interview process involved in job searches.
About 37 Delta State elementary and secondary education students are in the field this semester as student teachers.