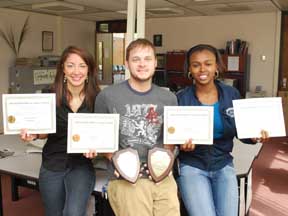 Delta State students (from left) Catherine Lavender, an English major from Clarksdale; Andy Howell, an art major from Grenada; and Natalie Pierre-Maliqi, a journalism major from Lake Mary, Fla., all staff members of The Delta Statement, Delta State's student newspaper, won awards in newspaper judging competition.
Lavender, The Delta Statement feature editor, placed second in the Best Feature competition.
Howell, The Delta Statement advertising designer, won four top prizes in the competition. He won both first and second in the Best Single Advertisement competition for his ads"Hairspray" and "Take Your Pets to the Vet

.

" Howell won both first and second in the Best Miscellaneous Ad competition for "SGA Environmental Affairs Committee" and "5 Canned Goods

.

"
Pierre-Maliqi, The Delta Statement layout editor, won honorable mention for Best Sports Column.
The "Better Newspaper Contest" was sponsored by the Mississippi State Press Association. The awards were presented at the recent 10th Annual O.C. McDavid Journalism Conference held in Jackson.
For more information

,

contact Patricia Roberts, The Delta Statement adviser, at (662)846-4468.