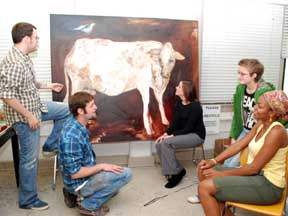 Delta State University art students (from left) Adam Terry (artist of painting), from Kosciusko, Bryan Horn, from Horn Lake, Laura Harthcock, from Senatobia, Kayla Eaton, from Vicksburg, and Vanessa Marble, from Indianola, look over one of the submissions to the annual Delta State Student Art Show. The show will open on Sunday, April 5, from 4-6 p.m., with awards announced at 4:30 p.m., in the Wright Art Center Gallery on campus.
Juried by Tom Douglas, chair of the Art Department of Itawamba Community College in Fulton, the students will display recent work produced in studio art classes. A public reception and awards sponsored by friends and patrons of the art department will be the highlight of Sunday's opening. The art will be on display through April 24.
For more information, please contact the DSU Art Department at (662)846-4720.