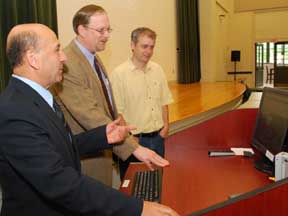 The 5th Annual Delta Research and Scholarship Symposium (DRSS) began Tuesday, March 31, at Delta State, with the keynote address delivered by Dr. Hamed K. Abbas, a research scientist with the USDA's Agricultural Research Service in Stoneville. The title of Abbas' address was "Aflatoxin Threat to Farmers and Customers."
The DRSS is a two-day event to highlight original work completed by Delta State faculty and their collaborators during the 08-09 academic year. It is organized and sponsored by the DSU Faculty Research Committee with additional support from the DSU Office of Academic Affairs.
The goal of the symposium is to provide a forum for faculty and their collaborators to share their professional work with their peers and with a wider audience.
The DRSS was held in the Baioni Center of Broom Hall and the Jacob Conference Center of Ewing Hall on the campus.
Suggested cutline: From left, Dr. Hamed K. Abbas, keynote speaker, Dr. Chuck Smithhart, Chair of the 2009 Delta Research and Scholarship Symposium, and Dr. Mark Bonta, Delta State associate professor of geography