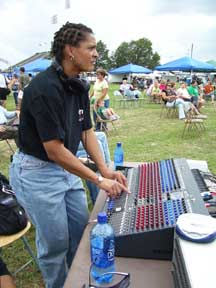 Delta
State junior Vickie Jackson, of Clarksdale, an Interdisciplinary Studies major in the Delta Music Institute, oversees an outdoor concert using Peavey equipment that was donated to the Delta Music Institute
Peavey Electronics has endowed a major musical-equipment grant totaling $60,000 to support curricula at the Delta Music Institute, a center for interdisciplinary studies in the music and entertainment industries at Delta State University.
"The music of the Mississippi Delta has influenced countless musicians around the world, and it inspired my lifelong passion for making the tools that allow us to create music," said Hartley Peavey, founder and CEO of Meridian-based Peavey Electronics Corporation, one of the world's largest makers of music and sound equipment. "I hope that this endowment will act as a bridge to link the rich musical legacy of the Delta region to the next generations of music professionals."
Music-industry veteran Tricia Walker, director of the Delta Music Institute, said that the Peavey endowment will bolster the program's burgeoning live audio production department, providing students with a rare opportunity to work with state-of-the-art sound reinforcement technology. Students in the Delta Music Institute will demonstrate the gear during its grand opening celebration for the public, March 7 and 8 on the campus of Delta State University in Cleveland.
"We are very grateful to receive such generous support from Peavey Electronics," said Walker. "As one of the world's largest makers of musical equipment—not to mention a technology leader with more than 180 patents to its credit—Peavey stepped up with a complete sound-reinforcement package that will be instrumental in our students' success at the Delta Music Institute."
The endowment includes a sound-reinforcement system featuring the Peavey Versarray™ line-array loudspeaker system, the ribbon-loaded, high-fidelity sound system used on the 2008 and 2009 Rockstar® Energy Drink Mayhem Tours and the 2008 Tim McGraw Live Your Voice Tour. The endowment also includes a Peavey 32FX™ analog mixer with fully digital processing; Peavey QW
® and SP™ Series monitors; Peavey VSX™ loudspeaker management systems; Feedback Ferret®

processors with patented feedback elimination technology; assorted cabling; and an array of microphones that will pull double duty in the DMI's studio program.
"Building on the tradition of Mississippi's undeniable musical history, this gift will support the creative dreams of the next generation of young musicians," added Walker. "The Delta Music Institute, with its entrepreneurial and interdisciplinary approach to studying the music and entertainment industries, serves to advance the musical culture that is alive and well in Mississippi."

Founded in 1965, Peavey® is one of the world's largest manufacturers of musical instruments and professional sound equipment. Peavey has earned more than 180 patents and produces more than 2,000 products, which are distributed throughout the United States and to 136 other countries. Peavey and its MediaMatrix®, Architectural Acoustics®, PVDJ®, Crest Audio® and Trace Elliot® brands and affiliates can be found on concert stages and in more than 5,000 airports, stadiums, theme parks and other venues around the world. To find out more, visit www.peavey.com.