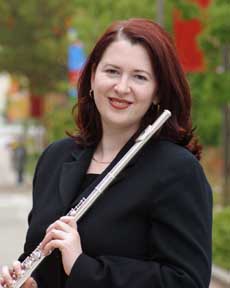 Dr. Shelley Collins, assistant professor of music at Delta State will present her annual faculty flute recital on Wednesday, April 8, at 7:30 p.m. in the Recital Hall of the Bologna Performing Arts Center.
The program will feature Francis Poulenc's "Sonata," a French piece that has become one of the most beloved works in the flute repertoire since its composition in 1958.
Dr. Keith Pettway, emeritus professor of music, will join Collins to perform Philip Gaubert's Greek Divertissemento.
Collins, along with pianist Dr. Kumiko Shimizu, will perform Gary Schocker's "Green Places," which was written for acclaimed flutist Sir James Galway. This melodic and expressive work is a musical painting of a variety of gardens, suggesting flowers, birds, and even a troll or two.
Collins will be joined by Don Allan Mitchell, assistant professor of English, for a performance of Alan Ridout's "The Emperor and the Bird of Paradise," a charming tale for flute and narrator. Collins will conclude the recital with Ian Clarke's "Tuberama," a work written in 2005 for flute and CD.
This concert is free and open to the public. For more information, please contact the Music Department Office at (662) 846-4615.