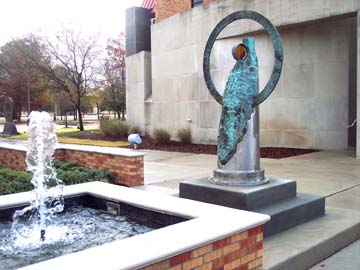 Shortly after her arrival at Delta State, Pam Mathews, painter and late wife of former Delta State University President, David Potter, had a dream of creating an artistic oasis on the campus.
With the assistance of the Hazel and Jimmy Sanders endowment, her dream has become a crown jewel of Delta State University. The Hazel and Jimmy Sanders Sculpture Garden, set outside of the Bologna Performing Arts Center at Delta State has acquired sculptures to help develop the artistic oasis envisioned by Mathews.
Now, recognized as the Pam Mathews Open-Air Sculpture Classroom, the garden's substantive pieces are chosen and purchased through a national competition every two years. Pieces to be judged in the competition are displayed in front of the Bologna Performing Arts Center for twenty-two months. At the end of this period, a winner is chosen.
In 2004, the sculpture garden development and competition was halted by the death of Mathews in her fight to overcome cancer. Pam's vision was revived a few years later with the help of the project's facilitator Nan Sanders and her patron mother-in-law, Hazel Sanders.
The sculpture garden features award winning sculptures including North Carolina artist Wayne Trapp's "Wind Harp," which won the purchase award in 2000. In 2002, the award went to Glenn Zweygardt's sculpture "Haiku Man" was purchased.
After her untimely death in 2004, Pam Mathew's devotion to sculpture has been honored with a 2008 commissioned sculpture by Glenn Zweygardt. "Pam Remembered" is a sculpture combining stainless steel, cast bronze, and cast glass.
Zweygardt currently resides in New York as an emeritus Professor of Sculpture at the New York State College of Sculpture and Alfred University and continues to produce his art. He has many pieces in permanent collections across the nation, five of which Delta State has in its collection.
"Pam Remembered" will remain in the garden as a symbol of her legacy of bringing art into the daily life of the Delta State campus.