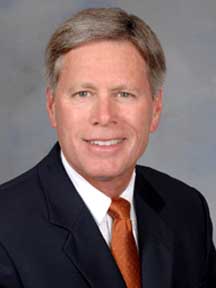 William LaForgewill present Delta State University's 12th Annual Cranford Lecture titled "Career Path Partnerships: From History to Law — and around the World Too," at 7 p.m., Monday, March 2, in the Jobe Hall Auditorium on campus.
LaForge is a graduate of Delta State's History Department, where his father also served as Chair of the Division of Social Sciences before becoming Delta State's first Dean of Arts and Science.
His lecture will focus, in part, on how his experience as a history major and the son of one of the university's most respected professors in the field prepared and shaped his career as a lawyer.
He willalso discuss how that career, shaped by a partnership of history and the law, has enabled him to create further partnerships, both personal and professional, as evident in his recent service on a delegation of American lawyers that travelled to China and Mongolia through the sponsorship of the People to People Ambassadors Program and his recent work as a visiting professor in American jurisprudence and commercial law at Perm State University, Russia.
LaForge holds law degrees from the University of Mississippiand Georgetown University, and studied international and European law at Cambridge University as part of his Georgetown LL.M. degree. He is a member of the bar associations of the District of Columbia and Mississippi, LaForge served as Chief Legislative Counsel and Chief of Staff to Senator Thad Cochran, Chief Counsel to the Senate Appropriations Subcommittee on Agriculture, Congressional Liaison to the Peace Corps and is a PastNational President of the Federal Bar Association. LaForge is currently Managing City Shareholder for the Washington, DC, office of Winstead P.C., as well as Chair of that firm's Government Relations and Public Policy Practice Group, not to mention an adjunct professor at George Washington University.
In 1992, LaForge was named Delta State's Alumnus of the Year and in 2007, was inducted as a charter member of Delta State's Alumni Hall of Fame.
The lecture, established to commemorate the life and work of Delta State history professor Sammy O. Cranford, is free and open to the general public, as is the reception following.
The 2009 Lecture is presented with special support from the Year of Partnerships.
For further information, contact the Delta State History Department at (662)846-4170.