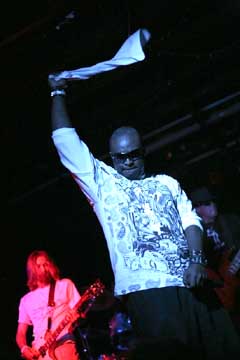 Kamikaze, formerly one-half of the critically acclaimed Mississippi hip-hop group CROOKED LETTAZ with David Banner, will be the featured showcase performer at the 2009 Delta Hip Hop Conference, hosted by the Delta Music Institute, on Thursday, February 26, at 7:30 p.m. in Jobe Auditorium on the Delta State campus.
With Banner, Kamikaze released the heralded album "Grey Skies" on Warner Brothers records in 2000. In 2002, he formed his own OurGlass Entertainment label and released his first solo record "AKA Mr. Sho-Nuff," which sold 7,500 records independently. In 2005, Kamikaze released "2 Broke 2 Ball," which sold 15,000 copies regionally and spawned the hit single "U Ain't Hard."
Over the years, Kamikaze has won numerous awards for his achievements in the entertainment industry and as a community activist. He was the recipient of the first Patiently Waiting Mississippi Award at the 2006 Ozone Magazine Awards, which was televised to a worldwide audience on MTV2. He was the winner of the Best Mixtape Host in 2005 at the Southern Entertainment Awards, Best Hip-Hop Artist in 2003 and 2005 at the Jackson Music Awards, and the Jackson Free Press "Best Hip-Hop Artist" award in 2007, 2008, and 2009. Most recently, Kamikaze received a Lifetime Achievement Award for his work in the Jackson area community at the Martin Luther King Awards Banquet.
Kamikaze has toured the Czech Republic and Ghana, West Africa, where he has garnered a huge following of fans. When he is not on the microphone, Kamikaze works in the area of urban development, as he is one of the new investor/owners in the historic Farish St. Entertainment district in Jackson. He is a founding member and president of the Mississippi Artist and Producers Coalition and also writes a bi-weekly column for the "Jackson Free Press."

The showcase performance featuring Kamikaze, and all other events of the 2009 Delta Hip Hop conference are free and open to the public.
For further conference information, please contact the DMI office at (662) 846-4579 or e-mail dmi@deltastate.edu.