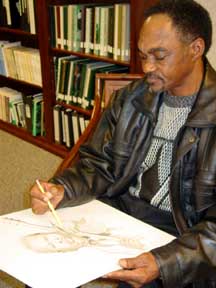 Charles Herring works with pencil on a portrait of B.B. King.
Charles Herring, a self-taught artist born in the Delta, recognized he had a talent for artistic expression at the age of seven when he won his first art contest. In high school, an essay and his art work were selected to be published on the cover of a book themed "A Past to Honor and a Future to Mold."
His desire is to inspire kids in the community and local schools to explore their own artistic abilities. He uses his artist skills and craftsmanship in wood work to develop the passion in others. Herring's art has been in galleries in New Jersey, New York, Alabama and most recently are on display in the BB King Museum in Indianola.
He is an Artist in Residence for the Delta Arts Alliance Program and a member of the Phi Beta Sigma Fraternity. For the past 20 years Herring has been employed with the Mississippi Department of Corrections as a correctional officer.
Herring's most recent collection of art works will be on display in the Charles W. Capps Jr. Archives and Museum gallery from Feb. 12 – April 30, An opening reception will be held at 6:30 p.m. Thursday, Feb.12, in Capps Archives.
This event is free and open to the public. Museum hours are Monday – Thursday, 8 a.m.- noon and 1-5 p.m. and Friday, 8 a.m.- noon and 1-4 p.m.
For more information, please contact the Archives at (662) 846-4780.