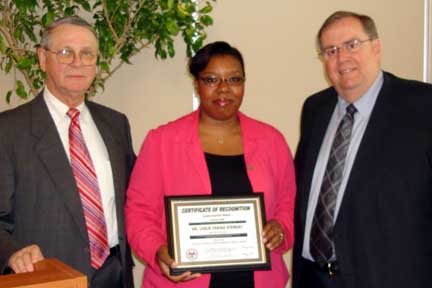 Dr. L. Stacy Davidson, Jr., IHL board member and chair of the Black History Month Committee; Dr. Leslie Fadiga-Stewart and Dr. John M. Hilpert, president of Delta State University
Dr. Leslie Fadiga-Stewart, Assistant Professor of Political Science at Delta State University, was recognized by the Mississippi Board of Trustees of State Institutions of Higher Learning (IHL) for her contributions to diversity at Delta State.
During its regular monthly meeting on February 19, the Board honored Black History Month by recognizing individuals from each of Mississippi's public universities for advancing diversity at their institutions. Dr. Eddie A. Holloway, Dean of Students and Assistant Professor of Psychology from the University of Southern Mississippi, was selected as the 2009 Black History Educator of the Year.
"I am truly honored to be Delta State's nominee for this year's award," said Fadiga-Stewart. "I believe Dr. Holloway and all of the other nominees from the other institutions are role models and provide inspiration for all faculty and staff throughout the state of Mississippi."