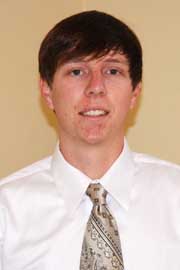 Deniger Cobb, a junior biology major from Alligator, has been named Pi Kappa Alpha's national "Pike of the Month" for February 2009.
The international fraternity presents the award based on a student's fraternal, campus and community accomplishments.
Cobb, a member of the Zeta Beta Chapter at Delta State, will be featured in the fraternity's monthly publication The Forum which is distributed to over 14,500 student members and 219 chapters and colonies. He will also be featured on the fraternity's web site, www.pikes.org along with other honorees for the year.
"Deniger is an outstanding person in every aspect," said Dr. Wayne Blansett, Vice President for Student Affairs at Delta State. "He is an outstanding student and student leader and has made many positive contributions to campus life as an undergraduate. He is very deserving of this high honor."
Cobb plans to apply for The Robertson Award, Pi Kappa Alpha's most prestigious undergraduate award presented annually to an outstanding graduate.
"This honor came as a great surprise to me," said Cobb. "I am truly grateful to have been selected and more grateful for my affiliation with the Pi Kappa Alpha fraternity."