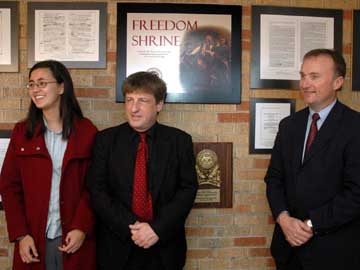 From left, Michelle Johansen, Delta State adjunct instructor in history, Dr. Adam Lynde, Delta State interim chair, Department of History and assistant professor of history, and Marty Tubbs, president of the Cleveland Exchange Club, acknowledge applause from people attending the dedication of the Freedom Shrine. The Freedom Shrine was donated by the Exchange Club of Cleveland.
The Freedom Shrine is a collection of reproductions of original documents from American History. The display includes the Declaration of Independence, The Bill of Rights, the United States Constitution, and the Gettysburg Address.
It was the idea of Johansen, who is also a member of the Exchange Club, that the wall of historic documents be located in Jobe Hall, home of the Delta State Department of History.
The dedication was held Thursday, Feb. 19, in Jobe Hall on the campus.