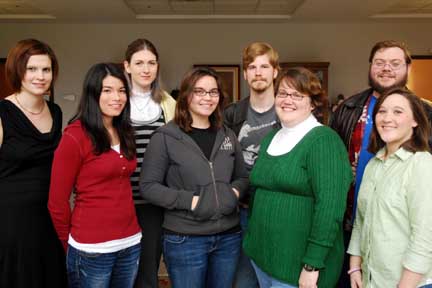 The winners of the Delta State University undergraduate creative writing magazine, "Confidante," were recently honored by the Delta State Division of Languages and Literature with a reception and a reading of selected entries.
Winners pictured are: (front row, from left) Michelle Delahoussaye of Cleveland, 1st Place for Formal Essay; Jessi Malatesta of Shaw, Honorable Mentions for Poetry and One Act Play; Katie Keen of Cleveland, 1st Place for Poetry; Kelsey Walker of Southaven, 2nd Place for Fiction; Kristen Langerman of Jackson, Honorable Mention for Formal Essay; Samantha Styers of Cleveland, 1st Place for Fiction and 2nd Place for Poetry; Jonathan Smith of Cleveland, 2nd Place for Formal Essay; and Zack Malatesta of Shaw, 1st and 2nd Place for Informal Essay. Not pictured: Landry Barbieri of Boyle, Honorable Mention for Fiction.
Winning entries will be submitted to the Southern Literary Festival creative writing competition.
The event was held on Tuesday,Feb. 17, in the Capps Archives and Museum on the Delta State campus.