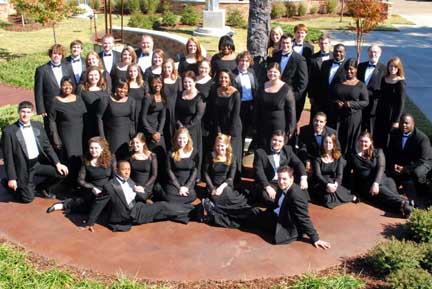 The Delta State University Chorale will tour the metro Jackson area on March 9 and 10, visiting several area schools and concluding with a choral-orchestral collaboration with The Mississippi Chorus.
"This tour is yet another opportunity for statewide visibility of our choir program, as well as the entire university," said Dr. Richard Waters, director of choral activities at Delta State. The Chorale is the premier large choral ensemble at Delta State. Recent tours have taken the 40-voice choir to New York, England, and Washington, D.C.
The tour concludes on Tuesday, March 10 at 7:30 p.m. at St. Francis of Assisi Catholic Church in Madison.
The Chorale will join forces with The Mississippi Chorus and members of the Mississippi Symphony Orchestra to present a collection of pieces composed for coronations, including Parry's "I was glad," Handel's "Zadok the Priest," and Mozart's "Coronation Mass."
The concert will be conducted Dr. Waters, who in addition to his university responsibilities also serves as the assistant artistic director of The Mississippi Chorus. Soloists for the concert include Dr. Teri A. Herron and Dr. Christopher Meerdink, assistant professors of voice at Delta State.
For ticket information, contact The Mississippi Chorus at www.mschorus.org or call (601) 278-3351.