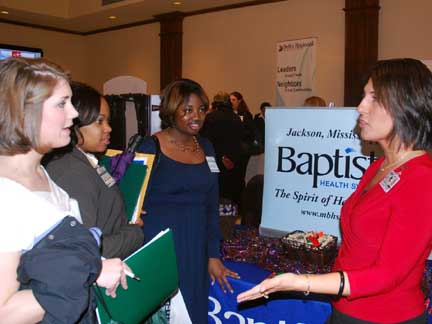 Delta State senior nursing students (from left) Mary Jennifer Meurrier of Jackson, Kajuandria Beasley and Queeneice Ganison, both of Greenville, discusses employment possibilities with Jodi Creed (at right), representing human resources with Baptist Health Systems of Jackson.
Delta State University Career Services and Placement recently held the Nursing Recruitment Day for the purpose of matching employers with potential employees. There were 25 exhibits and about 100 nursing students attended Delta State Spring Nurse Recruitment Day. "This was the best career fair I have attended at Delta State. The School of Nursing rocks!!" was a comment from one of the businesses attending.
Nurse Recruitment Day was held on Tuesday, Feb. 17, in the State Room of the H.L. Nowell Union on the DSU campus.