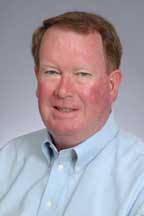 Dr. Thomas Nevin Sledge, Chair of the Commercial Aviation Department at Delta State University, died Thursday, December 25, at Baptist East Hospital in Jackson following a battle with pancreatic cancer.
A native of Cleveland, Sledge joined the Delta State staff as an aviation instructor in 1990 following a distinguished career in the U.S. Air Force and the Mississippi Air Guard. He became chair of the department in 1997. Sledge held a Master's Degree in Commercial Aviation from the University of Louisiana in Monroe, and a Doctorate of Education from Delta State University.
"Tommy was the consummate professional and a man of honor and integrity," said Dr. Billy C. Moore, Dean of the College of Business. "He was focused on providing quality education in aviation and was committed to Delta State and its students. I've never known anyone who enjoyed his profession more."
The son of former Senator, Nevin Sledge, and son-in-law of former Representative, Charlie Capps, Sledge is survived by his wife, Alinda Capps Sledge, Chair of the Social Work Department at Delta State; son Allen Thomas Sledge, of Memphis, TN; brother, Wilson H. Sledge, of Cleveland; and sisters Melissa Sledge Osborne of St. Louis, MO, and Luanne Sledge of Knoxville, TN.