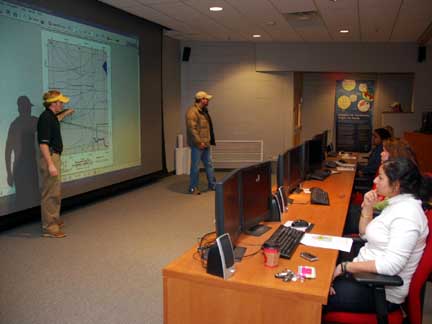 GIT student worker Chris Smith (standing at left), of Cleveland, and Assistant GIT Project Manager Scott Trapolino (standing at right), of Walls, show visitors how the U.S. National Grid works for mapping purposes.
The Delta State University Center for Interdisciplinary Geospatial Information Technologies (GIT) recently held a "GIS Day" open house to showcase their ultra modern area for teaching and learning geographic information.
The GIS Day included Geo Hikes, in which faculty instructed visitors on using an advanced global positioning, or GPS, unit, the high definition projection of the "Earth the Biography" series, instruction on 3-D modeling and a presentation on the U.S. National Grid system.
The renovations of Kethley Hall offered GIT Director Talbot Brooks the opportunity to design and create a high tech area to teach and for students to learn. Brooks transformed a large lecture room in Kethley into office space, a development center and an impressive "Theater of the Mind."
Collier Parker, Delta State Dean of Arts and Sciences, is proud of the technology the GIT center offers the Delta.
"The new Theater of the Mind projection room allows the center to bring community planners from all over the state and region to view 3-D images of their projects, thus enabling them to see the pros and cons of their plans," Parker said. "Overall, the new center will help to take the GIT program to a new level of teaching and leadership in the state and region."
The Theater of the Mind has a 20 foot-wide projection screen that is powered by three Panasonic 5500 high definition projectors. The sound is provided by a Dolby 200 watts-per-channel surround sound system. There are 20 student workstations with dual 20-inch super high resolution LCD monitors. Two projectors work together to create a 3-D projection while the third projector is used for HD quality 2D projection.
An array of digital and high-tech equipment, including plotters that can print documents up to 5 feet wide and 10 feet long and a large format color scanner, are also located in the center. There is conference space as well.
The center was funded in 2005 to provide specialized training for students in the region in order to create jobs, attract businesses and meet the needs of existing companies.
GIT now offers 32 courses, 24 of which are available online. Students may complete the certificate and minor concentrations with online training. The center offers not-for-credit training that includes using a GPS and map reading fundamentals. The center offers basic software training to the community on an annual and semiannual basis.
The center works with national partners to develop standards for addressing and communicating location with 911, search and rescue and disaster relief. It also coordinates with other state institutions of higher learning to support the Mississippi Emergency Management Association. Most recently, the center started a project with the Yazoo-Mississippi Levee Board to bring GIS into their field.
Delta State's GIT Center is located in Kethley Hall, Suite 150. For more information about the Delta State Center for Interdisciplinary Geospatial Information Technologies Center, call (662) 846-4520.