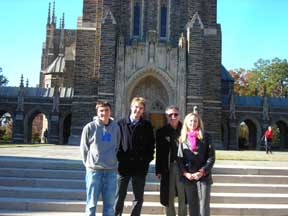 Dr. Luther Brown, Director of the Delta State University's Delta Center for Culture and Learning, was a recent guest of the Robertson Scholars Program at Duke Universityand the University of North Carolina.
He was recruiting Robertson Scholars to serve as interns throughout the Delta during next summer. In the past, these Scholars have worked in numerous settings, ranging from the Delta Arts Alliance, the St. Gabriel Mission, Congressman Bennie Thompson's office and the Bolivar Community Action Agency to the Sunflower Freedom Project and Sunflower County Library system.
Each year, between six and twelve Scholars live in the Delta for two months.
Pictured left to right are Michael Bernert, a Duke University Robertson Scholar who intends to come to Cleveland this summer, Doug Buchacek, Robertson Program administrator, Dr. Luther Brown, and Vicki Stocking, Robertson Summer Program coordinator. They are standing in front of the Chapel at Duke University. Robertson Scholars are fully funded for all four years of college and dually accepted at both schools.
For more information about the Robertson Scholars Program and their summer internships, contact the Delta Center at (662)846-4311.