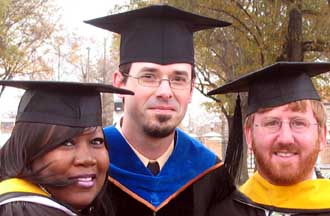 Juanita Sims (left) and Eric Atchison (right) joined three other students in completing the graduate program in Community Development at Delta State University. They were joined at the fall commencement ceremonies by Dr. John Green (center), the MSCD Graduate Coordinator.
The Master of Science in Community Development (MSCD) Program at Delta State University graduated five students at this year's Fall Commencement. With their graduation, Eric Atchison of Cleveland, Emanuel Edmond of Greenville, Patrick Ervin of Greenville, Juanita Sims of Shaw, and Jesse Strassburg of Cleveland, brought the total number of DSU Community Development alumni to 80.
MSCD students, housed within the Division of Social Sciences, spend approximately about two years studying practical ways to improve standards of living and quality of life in the Delta communities.
Three of the students, Strassburg, Atchison, and Sims, finished the program with a concentration in Sustainable Development.
Strassburg, of Cleveland, completed his thesis on farmer cooperatives in the Delta. The thesis drew on his work with Heifer International over the past eight years. A native of Wisconsin, he came to the Delta after serving as a Peace Corps Volunteer in Africa. He also has a degree from the University of Wisconsin in Animal Science.
Atchison, of Cleveland, came to Delta State after finishing a degree at the University of Mississippi. A native of the Gulf Coast, he now works for the Institutional Research and Planning Office at Delta State. Atchison served as president of the Community Development Student Organization, and was awarded the Spirit of Service Award, given annually to the outstanding student. He completed a practicum studying the recovery on the Gulf Coast after Hurricane Katrina.
Sims, of Shaw, attended DSU as a part-time student while working at the Bolivar County Community Action Agency. She conducted two practicum projects: assessment of an educational advocacy organization and developing an oral history archives initiative in partnership with the DSU Archives and Museum.
Dr. Alan Barton, an assistant professor in the MSCD program and co-founder of the Sustainable Development track, said: "We are very proud of the students that graduated this semester, and are particularly pleased that three of them have opted to complete the Sustainable Development track. Sustainable Development is a new approach to community improvement and these graduates will bring many new ideas and concepts into their communities, derived from their hard work in their courses and their original and practical research in Delta communities. We look forward to their strong leadership to make the Delta a better place for everyone."
Dr. John Green, Graduate Coordinator of the MSCD program, noted that, "All of the students from the program engage in the study of theory, research methods, strategies and techniques of community development. As this group of graduates demonstrates, they are and will continue to be leaders in efforts to achieve positive change. With the Sustainable Development track option, we are moving our program and students to the forefront of the field."
The Sustainable Development track is an option for students completing the MSCD. Students specializing in Sustainable Development take general courses on the sociology of community, community development, research methods and statistics, as well as specialized courses that teach the principles of sustainable development, which include a concern for the local and regional economy, social justice and environmental integrity. Sustainable Development majors also study processes of globalization and social change, and put into practice lessons on community leadership and environmental management. For more information about the MSCD program and the Sustainable Development track, please contact John Green at 662-846-4069.