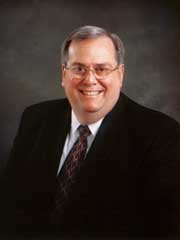 Delta State University President, Dr. John M. Hilpert, was elected the 2009 Vice Chair of the Commission on Colleges for the Southern Association of Colleges and Schools (SA
C
S) at the annual conference held in San Antonio, Texas.
Hilpert was elected to the Executive Council of the Commission in 2008 and has been chosen to serve in 2009 as Vice Chair of the thirteen-member council which is the executive arm of the commission with primary responsibility for interpreting commission policy and procedure. It also functions on behalf of the commission between sessions.
"It is an honor to be elected by my colleagues," Hilpert said, "and to represent Mississippi on a commission that does such valuable workfor higher education."
The Commission on Colleges of the Southern Association of Colleges and Schools is the recognized regional accrediting body in the 11 U.S. Southern states (Alabama, Florida, Georgia, Kentucky, Louisiana, Mississippi, North Carolina, South Carolina, Tennessee, Texas and Virginia) and in Latin America for those institutions of higher education that award associate, baccalaureate, master's or doctoral degrees.
The Commission's mission is the enhancement of educational quality throughout the region and it strives to improve the effectiveness of institutions by ensuring that institutions meet standards established by the higher education community that address the needs of society and students.
There are approximately 800 institutions accredited by SACS, which is based in Decatur, Ga.