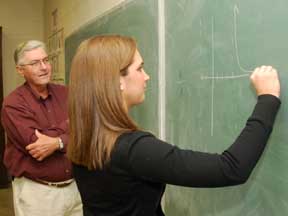 Dr. Robert Waller (at left), teaches college algebra at Bayou Academy to a senior in his class as part of Delta State University's dual-enrollment program. Dual-enrollment allows high school students at participating schools to earn high school and college credit simultaneously. Waller is also a retired Delta State University Assistant Professor of Mathematics.
Each year, an average of 200 area students earn college credit while still in high school through Delta State University's dual-enrollment program.
"Dual credit enrollment affords high school students the opportunity to earn college credit prior to graduating from high school because dual courses both fulfill high school graduation requirements and count as college credit," said Ann Lotven, Delta State Provost and Vice President for Academic Affairs. "The courses are taught at the high school campus, and the fee for a dual credit courses is lower than university/college tuition."
Dual-enrollment typically costs $50 per course compared to the over $500 a student would spend on the same three-hour course at the university.
Delta State has offered dual-enrollment classes since Fall 2006. Courses available include English 101 and 102, History 201 and 202, College Algebra and more. Participating high schools are located in the Delta and northern regions of Mississippi. Courses can be taught during or after the school day.
Course instructors are, for the most part, high school teachers who must be qualified to teach college level courses according to the requirements of DSU's accreditation body, the Southern Association of Colleges and Schools (SACS). Schools are required to employ an instructor with a master's degree and 18 hours in their concentration area, adhere strictly to guidelines set by Delta State's dual-enrollment program and to submit syllabi, instructor transcripts, and course selection for approval of course before the stated deadline. Delta State must officially approve a school to be a participant in the process before that school can offer access to dual-enrollment courses.
Marilyn Read currently coordinates the dual-enrollment program at Delta State. She said high school students may begin the program their junior year and could complete eight college-level classes before they graduate.
"In the initial year of admission, a student must have a "B" average in the first two courses they complete in order to continue in the program," Read said. "Students must be dedicated, committed and motivated."
Other student requirements include a $15 application fee, an ACT composite score of 16, parent or guardian's approval, headmaster or principal's approval and an approved dual-enrollment application form.
Students can apply college credit earned through Delta State's dual-enrollment to other universities or to colleges.
Stella Hawkins, a student at Bayou Academy in Cleveland, currently is enrolled in two dual-enrollment courses at her school.
"I really enjoy my college classes," Hawkins said. "Both of my teachers have a profound understanding of their subjects. This makes learning the subject a lot easier and more enjoyable."
Sara Beth Little is another student at Bayou Academy who is taking dual-enrollment courses this semester.
"Dual-enrollment has helped me get used to how college classes are scheduled and taught," Little said. "It has been a good experience, and I believe it has prepared me for the future."
Students interested in entering Delta State's dual-enrollment program should speak with their high school guidance counselors or principals for forms and additional information.
Schools that would like more information may contact Read at (662) 846-4700 or Debbie Heslep, Dean of Enrollment Management at Delta State, at (662) 846-4020. Heslep will begin coordinating the program during Fall 2008.