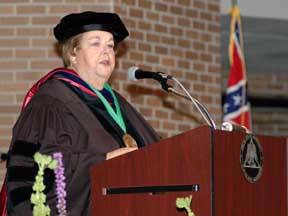 Dr. Phyllis Bunn delivers the keynote address during Delta State's 82nd Commencement
Delta State University celebrated its 82nd Commencement on campus Saturday, December 13, 2008, inside Walter Sillers Coliseum. Over 4,000 friends and family, along with Delta State faculty and staff, gathered to honor the accomplishments of 401 graduates.
On the day, three doctoral degrees and 11 educational specialist degrees were conferred, while 135 master's degrees and 252 bachelor's degrees were awarded through the College of Arts and Sciences, the College of Business, the College of Education and the School of Nursing.
Delta State President, Dr. John M. Hilpert, opened the morning service.
"Each of today's graduates has reached a milestone, and we are here to recognize their achievements," said Hilpert. "On behalf of the faculty and staff, I extend congratulations to all graduates."
As has been the long-standing practice, the winner of the S.E. Kossman Outstanding Faculty Award delivers the fall commencement keynote address. The 26
th
recipient of the honor, Dr. Phyllis Bunn, professor of business administration, offered wisdom and advice to the graduating class in her address
—
"What I Know For Sure."
The keynote focused on lessons she has learned during her lifetime, inspiring graduates to love and to have faith in themselves
,
to continue to learn to make their own way, to save for the future
,
to develop spirituality and to respect and live for others.
Bunn encouraged the graduates to focus on leadership.
"I know for sure that for a successful journey though life, you have to have a clear picture of yourself and your destination," Bunn said. "You have to be able to lead instead of allowing other people, events or situations to lead you. Begin now to know yourself and your destination. Begin now to set clear goals and make course corrections that enable you to satisfy dreams and ambitions."
During her inspirational address, Bunn stressed that "life is about opportunities for success" and the graduates should focus on those opportunities and not the obstacles in the way.
"The world will provide you with obstacles," said Bunn. "Follow your heart and instincts and show the stuff you are made of through your accomplishments. Have faith in your abilities, and you can reach your dreams."
In closing, Bunn offered words of optimism and encouragement.
"I know for sure that you can have success, happiness, fame, and/or fortune—whatever you want," she said. "To make that happen, love and have faith in yourself, learn to make your own way and save for the future, develop spirituality and honor it daily, and respect and live for others. All the best to each of you as you leave here."