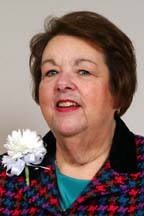 Dr. Phyllis Bunn, professor of business administration, will deliver the keynote address at Delta State University's 2008 fall commencement on Saturday, Dec. 13, at 10 a.m. inside Walter Sillers Coliseum on campus.
Continuing with University tradition, the winner of the S.E. Kossman Outstanding Faculty Award delivers the fall commencement keynote address. The 26th overall recipient of the honor this past May, Bunn, is set to offer wisdom and advice to the graduating class in her address — "What I Know For Sure."
The keynote will focus on a few things she has learned during her lifetime as she inspire

s

graduates leaving Delta State University

.

These include loving and having faith in themselves

,

continuing to learn to make their own way and saving for the future

,

developing spirituality and respecting and living for others.
Her love for teaching is demonstrated both inside and outside the classroom. It is important to Bunn that her business communication students have the opportunity to get an education that will help them not only become good business people

,

but also good citizens and family members. She also values supporting her students outside the classroom by attending concerts, sports and other university events. Students who know she values what they do outside the classroom

,

will value what they are learning in her classroom.
Since coming to Delta State University, she has served as national president of a professional organization and on the editorial boards of two national professional organizations. She also has held many other offices in national and state professional organizations. Service to Delta State University has also been important to Bunn. Most recently, she served as Faculty Senate President, chaired the Provost Search committee and chaired the Faculty Retention Task Force appointed by Delta State president

,

Dr. John M. Hilpert.
In 2006, Bunn was awarded Delta State University's Faculty Prize for Excellence in Teaching

,

and in 2004, she was awarded Bell South's Outstanding College of Business Teaching Award.
Delta State is expected to graduate an estimated 431 students during its fall commencement. Each graduate will receive eight tickets for family and friends. Tickets are required for entry.
For information on Delta State's fall commencement, please contact the Office of Communications and Marketing at (662) 846-4675.