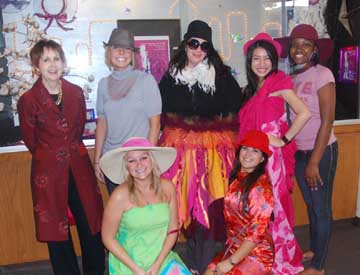 Pictured are (front, from left) Robin Kelly, senior from Cleveland and Georgia Wilson, junior from Clarksdale (back, from left) from left, Dr. Jan Haynes, professor, Brittany Davis, sophomore from Benton, Lee Karen Portera, junior from Grenada, Jacqueline To, senior from Hong Kong, and Shere'Vere Walker, freshman from Jonestown.
The Delta State University Fashion Promotion Class, Team Cleveland area merchants and the DSU Student Government Association are pleased to announce their upcoming fashion show, "Lost in High Cotton."
The show will be held on Nov. 18, at 7 p.m. in the Jacob Conference Center of Ewing Hall on campus.
Funding for the event was provided by the Cotton Incorporated Importer Support Program.
The exciting new fashions for today's college students and contemporary adults will be presented for day, night, holiday and resort. Numerous original student apparel designs will be shown. Many of the original garments were designed from hand printed or dyed cotton fabrics created in a cotton workshop at Delta State, also sponsored by Cotton Incorporated.
The show has been entirely coordinated by the DSU Fashion Promotion Class. Please join us as our students present the latest and most original in fashions and accessories in "Lost in High Cotton!"
Admission is free and door prizes from area merchants will be given away. For more information, contact: Dr. Jan Haynes (662) 846-4322 or e-mail jhaynes@deltastate.edu.