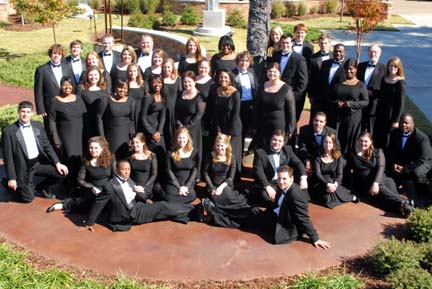 The Delta State University choirs will present their holiday concert on Saturday, Dec. 6, at 7:30 p.m. at First United Methodist Church in Cleveland.
During this fun and festive celebration, the Chamber Singers, Chorale and Delta Singers will present a variety of traditional and contemporary carols, including music by G. F. Handel, Morten Lauridsen, Francis Poulenc, Igor Stravinsky, Z. Randall Stroope and David Willcocks.
The choirs, under the direction of Richard Waters, director of choral activities at Delta State, will be accompanied by LeMorris Hunt, a senior piano performance major from Holly Springs; Kumiko Shimizu, assistant professor of music and Mark Butler, professor of music, both of Delta State.
Pre-concert holiday favorites will be provided by the Delta State Flute Ensemble, led by Shelley Collins, assistant professor of music, and the Delta State Low Brass Ensemble, led by Douglas Mark, assistant professor of music.
Recordings of the Delta State choirs, including their newest CD, "Comfort and Joy: Holiday Carols from Delta State University, volume 2," will be available for purchase before and after the concert.
The concert is free and open to the public. Seating is on a first-come, first-seated basisand early arrival is recommended. For more information, e-mail Waters at rwaters@deltastate.edu or call (662) 846-4115.